We are dedicated to helping you have the best experience possible when dealing with our company.
We are celebrating 30yrs in business and have double that in staff knowledge with Fireplace and masonry services.
Our location in Red Deer County makes us easy to get to and with our fleet of trucks, we go everywhere in Alberta.
We offer a wide range of products from various manufacturers to allow our customers the best options when choosing their fireplaces or masonry stone. 
Fireplace Connections & Stone is pleased to offer a large selection of Radiant Gas Fireplaces that are fuel efficient and reliable.
The research phase of fireplace shopping can sometimes be overwhelming, but we're here to help.  Many other types of fireplaces don't offer a significant heat source. Others might depend on a noisy fan to convect heat, along with "decorative" logs that don't project warmth throughout the room.  On the other hand, Valor has perfected radiant heat technology, allowing our fireplaces to generate constant, comfortable warmth, that will continue to keep you warm in the chance of a power outage.  Come visit our showroom and experience the Radiant Heat Difference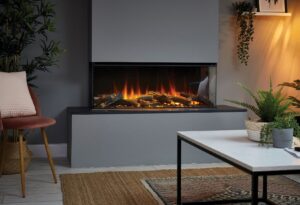 Valor Fireplace Design Center
Wood fireplaces combines the ageless love of a natural fire, with the latest in wood burning technology. Whether you want an absolute jaw dropping picture flame or endless hours of home warming comfort. We can help you to make the right decision for you and your family. Come visit our showroom to learn more about wood heating solutions. 
We carry all wood fireplaces from the companies listed below.
Click on any one of these to be redirected to their website and determine which fireplace is right for you.
A modern electric fireplace is clean, energy efficient, and takes up very little space. With the flick of a switch, the electric fireplace can help heat a room and create an ambient atmosphere. They can be more cost effective than gas or wood fireplaces, well looking good doing so. Come check out our showroom for the newest and latest in electric fireplaces available today.
At Fireplace Connections & Stone, we carry two types of Stoves. Our Gas Stoves have the ambiance and radiant heat of a freestanding woodstove but offer you less mess with the convenience of gas. Or choose one of our many wood stove options. Classically styled wood stoves in small, medium or large sizes that will heat your favorite living spaces with renewable, clean burning and efficient heat. Save money on your heating bill…and get back to basics with a beautiful, new wood stove. There is nothing like a wood fire. Come see our many stoves on display in our showroom.
The perfect solution to improve your heating efficiency for a warmer cozier home that saves you money. You can choose from traditional or contemporary designs that complement your home décor. An insert can add value and efficiency to your home! Wood Fireplace Inserts are considered the workhorses in the industry, performing dependably year after year, giving you the energy efficiency you need to heat your home.
Add a beautiful Valor Radiant gas fireplace to your 3-season room and start enjoying the outdoors even more! Rather than directly heating the air, Valor radiant gas fireplaces emit heat through the glass and spread warmth as it is absorbed by people and furniture within a room. Radiant heat is a feature of every Valor gas fireplace and is perfect for outdoor areas. Come visit our showroom and feel the Radiant Heat Difference today!
What we sell
Come down to our showroom and let our friendly and knowledgeable staff help. Please note, not all items may be in stock. Call
403-343-0705
to inquire about availability.
Find Your Ideal Fireplace for Your Place
We have everything you need to create that AMAZING Fireplace you've always wanted. Please contact us for any and all questions.